YES! The Bluefin are HERE.......Now's your time - come on over!
WAIHAU BAY BEACHFRONT ACCOMMODATION
Beachfront accommodation perfectly located for renowned Waihau Bay fishing, exploring the East Cape region, or relaxing in an idyllic beachside setting in this beautiful bay.
We are situated on the safe and sandy beach (pictured) considered to be perhaps the best in the East Cape area.
After settling into your self-contained spacious apartment, relax – enjoy the fishing, amazing ocean views, or exploring the beach - then finish your day soaking up the spectacular sunsets of Waihau Bay.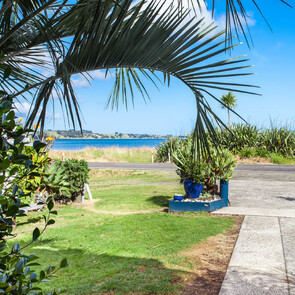 CENTRAL LOCATION
One and a half hours drive east of Opotiki along the scenic State Highway 35, Oceanside is well placed for exploring the areas around: Whanarua Bay, Cape Runaway, Lottin Point, Hicks Bay, Te Araroa, and the road to East Cape Lighthouse – all within a 45 minute drive.

Waihau Bay is a small coastal bay with everything you might need, yet still isolated enough to be removed from the hustle and bustle of modern day life. Petrol, a country store and hotel bar in the village nearby.
Waihau Bay Fishing
We have boat parking available onsite, and we welcome your enquiries.